We had the pleasure of sharing the Teaming Awards ceremony with more than 400 attendees. In this second edition, Álex Rovira inspired us with his speech "Sowing seeds of joy". We also shared together the emotions and stories we have experienced throughout this year and we saw some examples of great social causes and entities that, with their effort and dedication, are making this world a better place.
Agenda
6.30pm. Event registration
7pm. Stories that have changes the world
Opening speech by Antonio González-Barros, president of the Teaming Foundation.
7.30pm. Inspiring talk: "Sowing seeds of joy", by Álex Rovira.
Joy is contagious. Joy can be created, forged, shared. We contemplated on joy, how it can bring change in ourselves and in our environment and how we can sow seeds of it.
8.30pm. Delivery of the Awards

Delivery of Awards to the "Best Marketing Campaign of solidarity".
We watched the videos of the 3 semi-finalists and of the 2 winners of this category:
- 5th Semi-finalist. "Raro sería rendirse" by the NGO, ACTAYS.
- 4th Semi- finalist. "Rompamos juntos barreras por el autismo", by Confederación Autismo España.
- 3rd Semi-finalist. "Becas deportivas Aladina", by Aladina Foundation Fundación Aladina.
- 2nd Prize for "Chagua Maisha" by Progress for Africa. Premio para la campaña "Chagua
- 1rst Prize for the campaign "Un Hogar Seguro", by Wings of Heart
Delivery of the Honorary Awards
We recognised the work and commitment of entities to share the causes supported by Teaming Groups.
- Most active Group award: Todos con Pol (Everybody with Pol)
- Best Teaming Group growth award: Juegaterapia
- Most supportive company award: campaign led by Credito y Caución and the Jesús Serra Foundation to support the Food bank.
- Most inspiring Teaming Manager award: Eva and Noelia, of Solidarios sin Fronteras (Solidarity without Borders)
9pm. Networking time

Overview of the ceremony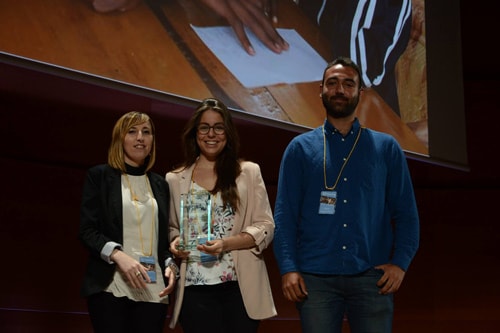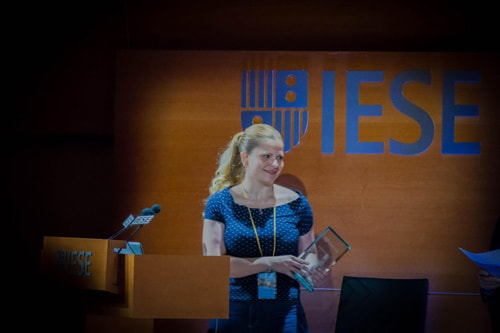 Watch the video of the previous edition
It's all about them